Idea

At the RIKEN Center for Life Science Technologies (CLST), we are working to understand various phenomena of life,including human life, with the aim to develop technologies that can provide medical solutions geared to individuals.

We have two core purposes. One is to develop key technologies that can enable breakthroughs in medical and pharmaceutical applications and bring innovation to our lives. The other is to conduct groundbreaking research and development for the next-generation of life sciences. CLST aims to promote life innovation focusing on three areas of research.
What does it mean to be "healthy"? At first glance this seems like an easy question, but it is not so easy to answer in reality.
What is the secret to achieving a healthy life? We believe that this question can only be answered with new knowledge and
new applied technologies. We are working to elucidate the dynamic behavior of molecules and to learn how to manipulate
them inside the human body. We believe these are keys for the future of drug discovery, diagnosis and medicine.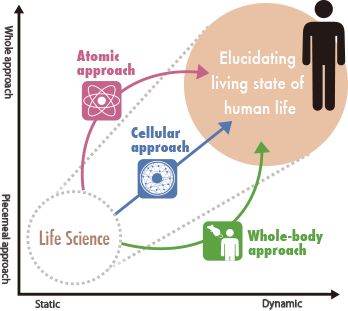 We are developing technologies to measure and analyze the entire range of molecules functioning in our body at three levels—the atom, the cell and the individual. To understand their real functions in the living body over time, we use a dynamic-comprehensive approach rather than a static and target-oriented approach.


To elucidate the dynamics of functional molecules in the human body, we need to develop new technologies with specifically human targets. The knowledge derived from these new technologies will be translated into innovations in the life sciences through our unique research and development structure which covers the three different levels of atoms, cells and the body.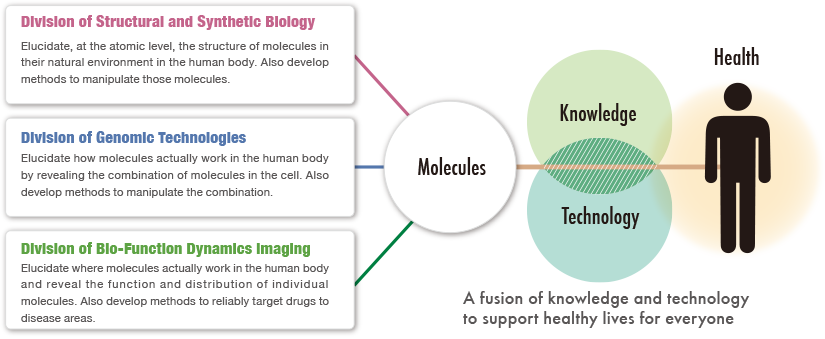 Even if we are genetically prone to a disease or have some poor lifestyle habits, the molecules working in our bodies do their best to keep us in a healthy state. However, there are limits to how far they can cope, depending on the individual, as the level of molecular activity differs from person to person. We are looking for ways to prevent diseases and to initiate treatment before the onset of disease by regulating molecular function.
Greeting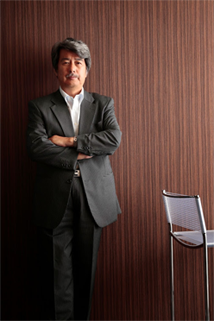 Our center's mission is to explore the future potential of next-generation life sciences and contribute to the ultimate goal of the life sciences, which is to allow us to live long healthy and active lives and thus realize a human society where people can feel at ease. Since the late 20 century, we have witnessed amazing progress in the life sciences, but there remain many discoveries to be made. We have yet to reach the stage where we can even fully describe the various function of the human body in our own language. However, humans have developed long-lived and comfortable societies by learning from nature, unlocking the secrets of living things and organisms, and adopting their systems even while feeling astonishment at the ingenuity of nature.In order to make a leap to next-generation life sciences, CLST will carry out research ranging from microorganisms and animals to humans, from elements to the integration of elements, and from stop-motion photography to the dynamic and temporal observations of video. Under our new concept of Live Science, CLST will transmit information as a scientific base supporting Japan and the world. We look forward to working with you.
Yasuyoshi Watanabe
Director
Center for Life Science Technologies
CLST Logo

The CLST logo is composed of a helix made up of circle that represent atoms and biomolecules such as nucleic acids and protein. The green color stands for life. The logo expresses how, thorough CLST, RIKEN is developing new technologies for life science research and opening up a new era in the life sciences.
Pamphlet
Staff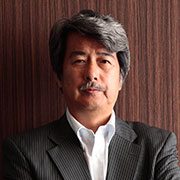 Yasuyoshi Watanabe
Director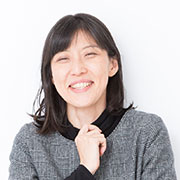 Mikako Shirouzu
Deputy Director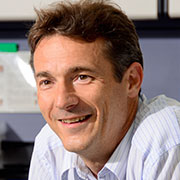 Piero Carninci
Deputy Director