For Public
"KOKORO scale", a novel system to assess human mood or mental state.

"KOKORO scale", a novel system to assess human mood or mental state.
Human mood and mental states change readily. As in the Japanese saying "a woman's heart and autumn weather," these changes occur moment to moment. They are also affected by the external environment, and by the mood of a company, a town, and even the mood covering all of nations at a given time. There is an increasing need to accurately understand and quantify this subtle "emotional movement" to comprehend feelings toward citizen services and consumer sentiment. However, psychological research to date has used written and multiple-choice survey forms, making it difficult to describe sensations intuitively and directly. Multi-choice methods are also insufficient in expressing subtle differences in sensations. Thus, quantification is difficult and these methods are unsuitable for mathematical statistical calculations.
Researchers at Cellular Function Imaging Team worked to develop a system that handles psychological changes as quantitative data. In 2011, they developed the "KOKORO scale (KOKORO means mind in Japanese)", a four-quadrant matrix in two-dimensional space with measures of mood such as "feeling of security," "anxiety," "feeling of excitement," and "irritability" on horizontal and vertical axes. For example, if the mood of a survey subject at the time is "I do not feel that much excitement, but I feel secure," he or she could put an entry into the lower part of the upper right quadrant. This is a system to analyze, substitute in statistical information, and quantify that data. Data can be input with a touch panel in tablet computer and smart phone, and there are plans to expand its use with tablet computer and smart phone applications.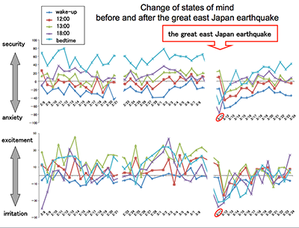 The KOKORO scale can show in detail not only mood changes in individuals, but also the psychological trends of groups, such as sex or age groups. This is promising for application in brain science and psychology research as well as for mental health measures. A survey of homemakers living in Tokyo was conducted using the KOKORO scale from February 8 to March 24, 2011. The Great East Japan Earthquake happened to strike during that time, so the effects on mood from things such as earthquake-related news reports on consecutive days and scheduled power outages were included in the dataset. The results of data analysis revealed that before the earthquake (normal periods), there was a trend for subjects to feel a little anxiety upon waking, and for anxiety to decrease and feelings of excitement to increase as noon approached. However, after March 11, the day of the earthquake disaster, there was a dramatic loss in feelings of security and an increase in anxiety not seen in the pre-earthquake data. There was also a loss of feelings of excitement and an increase in irritability. Depressed mood peaked immediately after the earthquake and then gradually recovered. The results of statistical calculation predicted that mood state would return to the pre-earthquake level from 2 weeks to 1 month later.
Related website
More Articles