Technologies of CLST
Technique to kill selectively hepatocellular carcinoma cells by synthesized chemicals
Technique to kill selectively hepatocellular carcinoma cells by synthesized chemicals
&nbsp
Introduction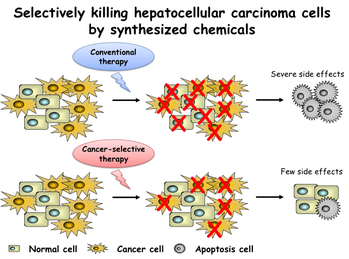 Hepatocellular carcinoma (HCC) represents approximately 85% of all primary liver cancer and is one of the most common malignancies worldwide, especially in Eastern Asia. The prognosis of HCC remains very poor, in part due to its high rate of recurrence after the initial treatment, reaching approximately 70% within 5 years. Here, we challenged to develop novel Vitamin A (VA) and K2 (VK2) analogs that can selectively kill HCC cells but normal liver cells (Figure 1).
Development of novel chemicals to selectively kill HCC cells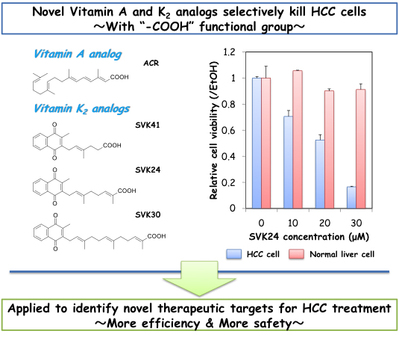 Acyclic retinoid (ACR), a synthetic retinoid with a VA-like structure, prevent the recurrences and development of HCC in patients after surgical removal of the primary tumors. Now, ACR is under its phases II/III clinical trials (JapicCTI-121828) in Japan and is expected to become the first chemopreventive agent. We found that ACR can selectively suppress the growth of HCC cells (JHH7 etc.) but not normal liver cells (Hc). Furthermore, no growth suppression was observed in JHH7 cells by treatment with two ethyl analogues of ACR at the –COOH group. VK2 has a similar chemical structure in its side-chain with ACR and is also supposed to inhibit the growth and invasiveness of HCC cells. While no inhibitory effect of VK2 was observed in JHH7 cells, VK2 derivatives with a –COOH group in its side-chain can cancer-selectively inhibit JHH7 cell growth. These results suggest that the –COOH group is important in exerting the anti-cancer effect by ACR and VK2 (Figure 2).
Application to identify novel therapeutic targets for HCC treatment
 Using these novel chemicals that selectively kill HCC cells, a genome-wide screen was performed to identify novel therapeutic targets for HCC treatment using next-generation sequencing-based Cap Analysis Gene Expression (CAGE) analysis. Of particular interest, no transcription of MYCN, a well-characterized pro-oncogene, was observed in Hc cells, but high expression level was observed in JHH7 cells. The expression of MYCN was almost completely inhibited by ACR in JHH7 cells. Similarly as ACR, VK2's –COOH group derivatives were found to decrease MYCN expression in JHH7 cells, whereas no effect was observed with the ethyl analogues of ACR at the –COOH group. These results suggest MYCN might be a potential therapeutic target for HCC treatment with few side effects.
References
Dual induction of caspase 3- and transglutaminase-dependent apoptosis by acyclic retinoid in hepatocellular carcinoma cells. Tatsukawa H, Sano T, Fukaya Y, Ishibashi N, Watanabe M, Okuno M, Moriwaki H, Kojima S. Molecular Cancer. 10, 4. PMID: 21214951 (2011)
 
The effect of acyclic retinoid on the metabolomic profiles of hepatocytes and hepatocellular carcinoma cells. Qin XY, Wei F, Tanokura M, Ishibashi N, Shimizu M, Moriwaki H, Kojima S. PLoS One. 8(12): e82860. PMID: 24376596 (2013)
Related labs