Labs & Technologies
Next-Generation Imaging Team
Next-Generation Imaging Team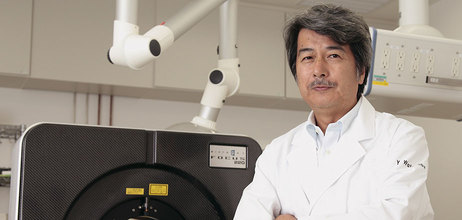 Team Leader
Yasuyoshi Watanabe Ph.D.
6-7-3 Minatojima-minamimachi, Chuo-ku, Kobe, Hyogo 650-0047, Japan
Tel: +81-78-304-7190

Research Area
In order to realize the multiple molecular imaging - simultaneous imaging analysis of multiple biological processes taking place in the intact living organisms, we are pursuing the development of innovative imaging methodologies, and the discovery of new imaging probes.
Development of advanced molecular imaging technologies by semiconductor Compton camera GREI 
We are developing a new gamma-ray imaging system called GREI (Gamma-Ray Emission Imaging) that is a germanium semiconductor Compton camera. GREI enables simultaneous imaging of multiple probes labeled with gamma-ray emitting radionuclides. 
Development of innovative PET technologies for multiple molecular imaging
In order to realize simultaneous imaging of multiple PET probes, we are developing new technologies by integrating the PET technology and gamma-ray spectrometry. 
Production, exploration and application of new radio-isotopes for molecular imaging
For the next-generation molecular imaging, we are producing various radio-isotopes, and pursuing the exploration for new nuclear-medicine nuclides and the applications of them. 
Drug discovery and development for the next-generation molecular imaging
We are developing new probes that are considered to be used for the diagnosis of cancer and metabolic disease, and evaluation of transplant and regenerative treatment.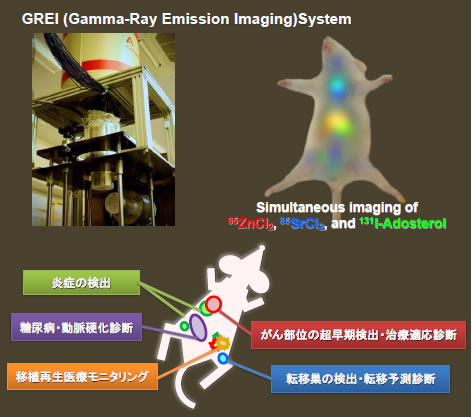 *Joint research with Prof. S. Enomoto of Okayama university
Research Topics
Main Publications List
Member
*concurrent